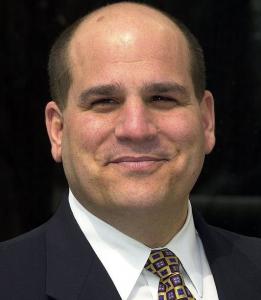 Joseph Spiezio of Mt Vernon Supports Pediatric Cancer Philanthropy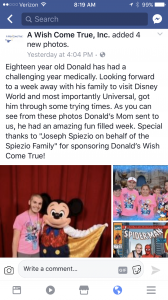 Donald and his family enjoyed a great trip to Disney courtesy of the Spiezio family of Mt Vernon
Joseph Spiezio, a Mt Vernon based developer and businessman and the Spiezio family announced their support for A Wish Come True, Inc.
These brave children and their families deserve our support and some fun. They face countless doctor appointments, clinical trials and medical treatments such as chemotherapy and radiation to surgery"
— Joseph Spiezio
MT VERNON, NEW YORK, UNITED STATES, July 11, 2017 /EINPresswire.com/ — Until now, Joseph Spiezio has kept his personal life relatively quiet. However, a recent article has shed some light on his passion for helping families who are dealing with serious illness.
Joseph Spiezio is Deputy Police Commissioner of the City of Mt. Vernon and the founder and Chairman of the Board of Waste Services and other waste management companies that focus on developing and implementing environmentally friendly waste disposal solutions, moving away from erstwhile methods that harm the environment and turning instead to green initiatives such as recycling and burning methods that don't pollute the air or water.
He also emphasizes customer service and finding industries where customer needs are not being met. His companies set continually higher standards for customer retention through excellent customer service and green waste management solutions designed for the smaller city.
Spiezio has an impressive list of community involvement credits, including the City University Law School Alumni Association; Knights of Columbus, 3rd Degree; Board of Trustees for Riverside Healthcare Systems, Inc.; former Co-Chairman of the Central Park Avenue Business Improvement District Study Group; member of the International Council of Shopping Centers, member of the National Association of Home Builders, Board of Directors for the YMCA of Yonkers, and many more.
Now, Spiezio has added another credit to his name: sponsor of A Wish Come True, a foundation that grants wishes to children suffering from life-threatening illnesses.
Spiezio understands the struggles of families with sick children and how stressful it can be to deal with extreme illness, countless doctor appointments, clinical trials, and medical treatments ranging from chemotherapy and radiation to surgery. The struggles children with serious illness and their families face can take a significant toll on the family unit, and Spiezio wanted to help in any way he could.
He also understands how helpful it can be when someone goes the extra mile to help. That's why he wanted to reach out to other families experiencing similar difficulties. Through A Wish Come True, Spiezio was able to send 18-year-old Donald and his family to Disney World for a once-in-a-lifetime vacation they'll never forget. This precious time Donald and his family got to enjoy together boosted their spirits and gave Donald a chance to experience something he wanted to do.
A Wish Come True makes a difference by giving patients a break from the constant stress of illness, from medical treatment regimens to the fear and pain of the sickness itself. Spiezio hopes that others will become aware of foundations like A Wish Come True and be inspired to contribute so that other sick children and their families can take advantage of the priceless gift of a wish fulfilled.
Joseph Spiezio
Joseph Spiezio Family, Mt Vernon
9142310100
email us here

Source: EIN Presswire