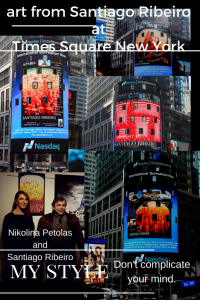 Nikolina Petolas and Santiago Ribeiro´s Times Square exhibition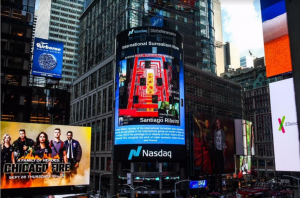 art from Santiago Ribeiro at Times Square NY
art from Santiago Ribeiro at Times Square NY
Portuguese surrealist painter Santiago Ribeiro finds new and unusual avenues to showcase his art
art from Santiago Ribeiro at Times Square NY
Founder of International Surrealism Now movement planning next phase of his international group art exhibit"
— santiago ribeiro
NEW YORK, NY 10036, USA, NY, UNITED STATES, October 7, 2017 /EINPresswire.com/ — in the press
News Art & Travel
New York, USA, 02/10/2017 – Portuguese surrealist painter Santiago Ribeiro finds new and unusual avenues to showcase his art. Founder of International Surrealism Now movement planning next phase of his international group art exhibit.
In concern at Times Square Ribeiro's work it has been featured at the U.S. embassy in Lisbon; Times Square Chronicles; New York City News; Portuguese American Journal, New York Statesman; New York Telegraph; Art in New York City; The US News; Digital Meets Culture, The Guardian Witness; Pravda in Portuguese, Diario de Notícias de Madeira, Campeão das Províncias, Radio Regional Centro; i Press Journal; Portugal Global; Luso Jornal; .Luso Americano; RevistaPort; Spain's Pressenza; France´s Le Parisien; Bel 7 Infos; 75 Agende Cuturel; Le Progrés; .Le Musee Prive; Pressenza fr.; by the North American Don 411 News and Supply Chain Dive; Couth Magazine; Broadway World; National Geographic; Yahoo Finance; Bulgaria´s Novosiane; BBC Record London by Paskistan; Pacific Press Agency from Phillippines and so many other endless publications.
Below the last session of Ribeiro´s exhibition on Times Square, New York city.
​
​
In addition to the large personal investment some sponsorship comes from the Bissaya Barreto Foundation, Condeixa-a-Nova House Mayor and the North American MagicCraftsman Studio.
The Times Square pieces are part of the International Surrealism Now group exhibit, an ongoing project that Ribeiro began in 2010 to showcase the work of surrealist artists from all over the world. He conceived the International Surrealism Now movement in Coimbra with a major exhibit organized by Bissaya Barreto.
As Ribeiro continues planning the project's next phase, he is testing innovative exhibition spaces such as Times Square. His ambition for Winter 2018 is to launch the largest world exhibition of contemporary Surrealism art in Europe. The initial exhibit of paintings, drawings, digital art, photographs and sculpture — with more than 100 artists from 48 countries participating — is expected to be shown at several museums, monuments and public spaces throughout Portugal.
​
don´t complicate your mind.
contactos: 4 Times Square, New York, NY 10036, USA +1 212-401-8700
Informação de contacto: santiago ribeiro, santiagoribeiropainting@gmail.com ESTRADA DA BEIRA 17, nº503, 5ºV, 3030-173, COIMBRA, PORTUGAL, UE, mobil number: 00351 964485027
Phil Norman
independent
964485027
email us here

Source: EIN Presswire