Join the Club for People Who Love to Make a Difference and Party for Good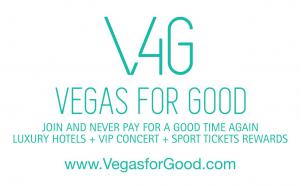 Participate to Make Mom Proud….and Party in Vegas for Good

Get a Kickass Tech Job & Party for Good www.RecruitingforGood.com
Recruiting for Good, launches Club We Party for Good to reward people VIP Party Weekends for making referrals that help fund 'Our Moms Work' community service.
Join Today Help Moms and Never Pay for a Good Time Again!"
— Carlos Cymerman, Advocate Having Fun Fighting for Our Moms
SANTA MONICA, CA, UNITED STATES, September 28, 2018 /EINPresswire.com/ — Every year, Recruiting for Good is rewarding 100 exclusive LA, NY, and Vegas weekends to people who join 'We Party for Good' to make a difference and help the staffing agency support Mom cause. Club members enjoy luxury 2 nights stay at 5 Star hotels, and VIP concert tickets.
According to Recruiting for Good Founder, Carlos Cymerman, "Since 1998, I have been fortunate to get great referrals for candidates and clients. In 2017, I launched 'Our Moms Work' to make a difference, and have been funding it by making recruiting placements. I need your help raising more money for our moms' services. So, I am launching 'We Party for Good' a fun club for professionals who love to make a difference; simply make referrals to earn rewarding concerts in your favorite party city."
How to Join We Party for Good
Everyone is socially connected to people who hire professional staff at companies, or know professionals looking for work.
Simply make the introduction to either a company hiring or a great candidate looking for a job, when Recruiting for Good makes a successful connection; a portion of the finder's fee earned is donated to fund 'Our Moms Work.' And the person who successfully makes the referral, earns one VIP party weekend reward.
Carlos Cymerman, adds, "If you are in tech, and are looking for a Kickass job in engineering or IT, simply submit your resume directly to Carlos(at)RecruitingforGood(dot)com, complete your probation, and earn your party for good."
About
We Party for Good, is the only rewarding club for members who make a difference; enjoy exclusive fun weekend parties in L.A., New York, and Vegas. "Love to help moms and experience life differently, join the club." www.WePartyforGood.com. We Party for Good members enjoy personal service; and the best concerts tickets provided by First Choice Tickets, in business for 25 years.
Recruiting for Good, a socially progressive staffing company in Santa Monica, finding talented professionals kicka$$ jobs, since 1998. Companies retain us to find the best talent in Accounting/Finance, Engineering/IT, and Marketing/Sales professionals. We reward referrals with fun experiences. visit: www.RecruitingforGood.com
Our Moms Work is a Santa Monica based community service sponsored by Recruiting for Good; offering cost free personal career mentoring services. In 2019, coming out with funded services to offset the cost of running a business for mom entrepreneurs and business owners. Our fun mission…"When we love life…the party never ends." www.OurMomsWork.org
Carlos Cymerman
Recruiting for Good
310-720-8324
email us here

Source: EIN Presswire